Description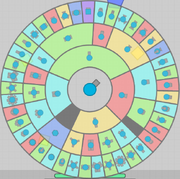 Class Tree (or Tech Tree) - is displayed when the player holds down the Y key on the keyboard. The Tree is a circle that enlarges itself the longer the Y key is held down. It will continue to rotate around the player as long as the Y key is held down. The areas that are shaded black on the Tree means that there is no upgrade that that tier that is available. It has 3 layers, the innermost layer is the Level 15 or Tier II. The second layer is Level 30 or Tier III. And finally, the outside layer is Level 45 or Tier IV. It displays all the class that are in the game currently as of 28 August, 2016. Max level is 45.
Class Tree/Tech Tree
Scroll sideways to see all of the tanks.
Tier I
Tier II
N/A
Tier III
N/A
Tier IV
Changelog
Only tree related entries are listed here.
2016-10-15
Master renamed to Factory
2016-08-15
2016-08-28